AS OF 8/30/07
If anyone thinks I may have forgotten how to paint a car......
THINK AGAIN....
I'll be up dating the pix as I finish,...enjoy
One of the few times you'll see Not to bad for a street job
this quarter panel with out rubber stuck to it .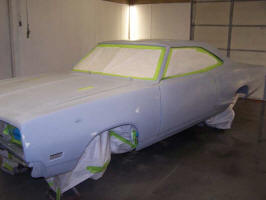 WELL,.....IT'S PAINT DAY..... 8/21/07
I've done the final fit on the front fenders edged out the hood and fit that. one more coat of primer and then the final block sand.
putting the motor in 500 + inch stroker 440
check back to see the progress