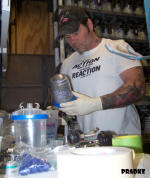 Since 1988, when Robert E. Pradke Jr. first opened his doors at 23 General Lyon Road in Eastford, Connecticut, he has been honing his skills to try and be the best at what he does. Hand laid pin striping and lettering, airbrush, artwork...EVERYTHING from start to finish goes through his hands. Traditional methods of laying down real sterling silver and gold leaf are used. This is the real stuff done the right way! Flake, candies and pearl are carefully sprayed on everything from cars, motorcycles and helmets to even things like surfboards and refrigerator doors! If paint sticks to it, he'll paint it! Much of his artwork has appeared on T-shirts and posters.
Robert's constant strive for perfection has given him the ability to appear in numerous magazine articles and to receive more than just a few "Best Paint" awards. He is also currently involved in The Discovery Channel "Biker Build Off" series in which you can see him apply his amazing paint techniques in front of the camera.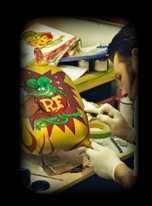 Robert has many influences in the art world, but most can be traced back to the roots of the kustom kulture scene of the '50s and '60s. Men like Ed "Big Daddy" Roth , Von Dutch and Tommy the Greek have left an indelible mark on him and are partly responsible for where he is at now as an artist. He is passionate about his work and this passion clearly shines through on each and every piece he produces.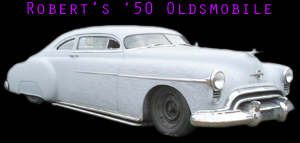 If you are looking for a one of a kind custom paint job or piece of artwork, look no further. You have come to the right place. Robert is involved in all aspects of your project. From conception to the finished product you can count on him to give you the 100% attention and quality you deserve.